(Uthappam Varieties, Utappam, Oothappam)
Ingredients
Idli Batter - 2 cups (see recipe for idli)
Onions - 4 (finely chopped)
Green Chilly - 4 (minced)
Cilantro - 2 strands (finely chopped)
Oil – ¼ cup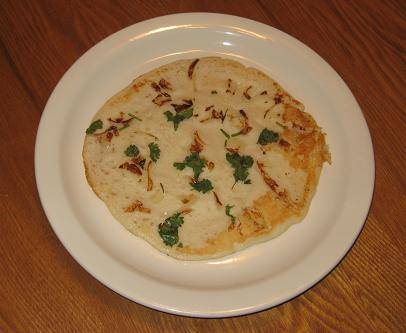 Method
1. Heat 1 tsp of oil in a frying pan.
2. Pour1 big spoonful of the idli batter in the center of a heated frying pan. Let it spread on its own to take a round shape.
3. Sprinkle few chopped onions, cilantro and green chilly on top of the batter.
4. When the base is golden brown i.e approximately 2 minutes, turn the side and cook well.
5. Serve piping hot with sambhar and/or chutney of your choice.
Tips
- For crispier uthapam, pierce a hole in the middle and pour little oil while cooking.
- You could try different toppings and make tomato uthappam, carrot uthappam, podi uthappam, coconut uthappam, beetroot uthappam, oats uthappam , cheese dosa, spinach uthappam, capsicum uthappam, cabbage uthappam, mixed vegetable uthappam etc.