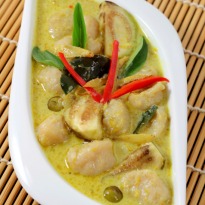 Recipe Cook Time : 30 Minutes
..................................................................
Fish fillets simmered in coconut milk with freshly made Thai green curry paste and aromatic spices. Best served with steamed rice.
Ingredients
1 kg fish cubed
1 Tbsp Thai green curry paste
1 Tbsp oil
2 Tbsp chopped onions
1 tsp chopped garlic
1 tsp chopped ginger/galangal
1 cup coconut milk
2 Tbsp chopped coriander
2 Tbsp lemon juice
1 Tbsp palm sugar
3-4 each basil leaves
Salt & pepper to taste
Method
Marinate the fish cubes in half of the Thai green curry paste.
Add salt, pepper,lemon juice and set aside.
Heat some oil in a pan, add the onions, ginger, garlic and sweat for 2 to 3 minutes.
Add the rest of the green curry paste and cook for 1 to 2 minutes.
Then add the coconut milk and the fish cubes. Simmer for 2 minutes. Add the chopped coriander, lemon juice and palm sugar.
Garnish with basil leaves. Serve with steamed rice.
Key Ingredients:
Fish, Sugar, Salt, Galangal, Basil, Black Pepper, Lemon Juice, Coconut Milk, Garlic, Onion, Vegetable Oil, Coriander Leaves