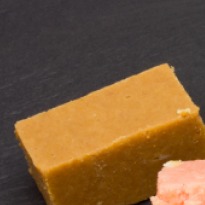 Recipe Cook Time : 30 Minutes
..................................................................
Mysore Pak is a sweet dish of Karnataka, prepared especially during Diwali. Besan, ghee, sugar and water mixed together to form soft pieces.
Ingredients
1 cup sugar
1 cup water
1 cup chick-pea flour
2 cups ghee
Method
Sift the besan and keep ready.
Dissolve sugar in the water over low heat and once it dissolves, increase the heat, bring to a boil and cook till it reaches a one-thread consistency.
Add 1 Tbsp of besan and stir to mix well. Continue till all the besan is added, a tablespoon at a time.
Add the ghee, one tablespoon a time till all of it is used.
The color and texture will change by now. It will get more brown and crumbly.
Set in a thali, patting to level.
Do not remove ghee that may float on top, pat it back.
Cool, cut and serve.
Key Ingredients:
Sugar, Gram flour, Clarified Butter